Harriet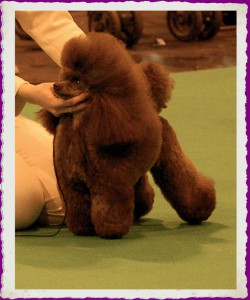 Ch Sherrygold Devil Woman
1 BIS, 2 BOB's, 3CC's, 1BPIS,2BPIB's.
Sire – Wightwonder Hope And Glory
Dam – Sherrygold Hot Choco Babe
Harriet became our first brown Champion in April 2008 at London and Home Counties Championship Show where she also won Best In Show. Grateful thanks go to judges Rob McLeod, Nona Catterall & Val Beck and to the many other judges who have supported Harriet.  Harriet was placed 1st in her class at Crufts for two consecutive years running and was also Best Puppy in Breed at Crufts 2007. She is a little show off and is a very mischevious little character both in and out of the show ring.
BCC, BOB & BIS London and Home Counties Ch Show 2008
BCC & BOB International Poodle Club Ch Show 2008
1st Open Bitch AOC Mercia Toy Poodle Association 2008
1st Open Bitch AOC Poodle Club Ch Show 2008
RBB Mercia Toy Poodle Association 2008
Best Puppy in Breed Crufts 2007
1st Puppy Bitch Crufts 2007
BCC LKA Ch Show 2007
1st Limit Bitch BUBA 2007 (Gained Stud Book Number)
Best Puppy in Show Newtown & District CS Open Show 2006
Best Brown British Toy Poodle Club Ch Show 2006
1st Puppy Bitch Northern Toy Poodle Club Ch Show 2007
1st Novice Bitch International Poodle Club Ch Show 2007
1st Novice Bitch Windsor Ch Show 2007
1st Novice Bitch Trent To Tweed Poodle Club 2007
1st Novice Bitch Welsh Kennel Club 2007