Agility & Assistance Videos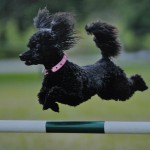 Poodles love to do Agility and we have sold several puppies specifically into homes for this purpose. Agility can be enjoyed at any level but in some cases our puppies have actually reached Crufts Level.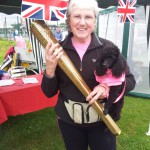 Martha recently went to the UKA Nationals where she qualified for the Tugg-e-Nuff challenge final. She now competes at Senior level in the performance and Champion at the steeplechase. She also had the honour of holding the Olympic torch during London 2012 together with her owner Pam!
The videos below are of Sherrygold Martha enjoying her training – she can also play Football!
Assistance
Sherrygold Ruby Glow has now reached the Top Level of her Assistance Dog Training
These videos show her one year into her training with her disabled owner Suzanne and her daughter. They now have a second Sherrygold dog in training.